Hi all,
Christmas is coming! It's just five days away! Time for my annual Christmas gift ideas for the outdoorsy him and her.
In case you haven't noticed, we've been blessed with a series of snow storms that have allowed Idaho's ski areas to open earlier than usual, and the skiing/riding has been great for those who can get away and experience it! See my latest snow forecasts at
opensnow.com
for the latest information. The short story is that a parade of storms are forecast to hit Idaho's ski areas through the Christmas holiday, freshening the ski slopes nearly every day.
I also saw that Stanley has created a nifty ice rink for the winter season. That'd be fun to visit when you're in the 'hood ... especially if you have your own skates!
Icewear Norwegian sweater $82
Now, on to the gifts!
1. How about a sexy ski sweater for your honey? There's a big variety to choose from in terms of a fleece-type sweater, or a cozy wool sweater, or other types of warm and cuddly sweaters for your sweetheart.
2.
A warm, cozy Carhartt vest
from D&B Supply, or a Patagonia down vest from
Idaho Mountain Touring
,
Boise REI
,
Greenwoods Ski Haus
or
McU Sports.
3.
Socks
-
Lots of color, designs and patterns, Smart Wool comfort made in the USA. Everyday Compression to support people standing on their feet, and it doesn't take 3 men and gorilla to put your socks on. Recommendation from Chris at IMT.
4.
Ski gloves
- It's nice to have several pairs that work for various tasks such as driving, xc skiing or snowshoeing (thinner weight), and alpine skiing (warmer). Another reason to have several pairs is because we all tend to lose gloves and mittens. Just part of life. I have found some of my favorite gloves for xc skiing and lightweight use in the work glove section of
May Hardware
in McCall or the local Maverick service station.
5
. Snowshoes -
It takes a lot of time and money to master the art of skiing or snowboarding, but just about anyone who can walk can strap on a pair of snowshoes and do great! It helps to bring a pair of ski poles for balance. There are many different brands available. Price range: $50-$150 for snowshoe-pole combo sets. You might be able to find a pair at the
Boise Outdoor Gear Exchange
.
Blundstone all-weather boots
6.
Fancy boots!
-
Blundstone Australian boots are super hot right now, Sorelle-fashion boots that are functional and don't look like hunting pack boots, and Olukai slip-ons boot/shoes.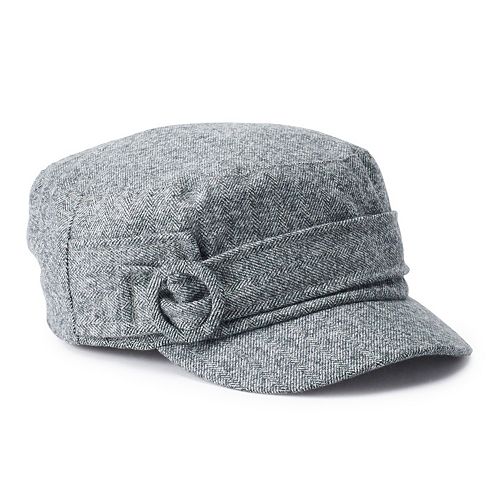 7. Winter hats
- Can't go wrong in this department, but it's always nice to find a winter hat that has personality! Similar with gloves, it's nice to have different winter hats for situations when it's relatively warm or you're working up a sweat (thinner weight), and when you need a bomber warm hat that keeps you warm in single digits or sub-zero weather. Remember that wool ultimately rocks in the warmth department. Another helpful item is a facemask for the really cold days on the mountain. I also love the smart-looking ballcap-style hats they make for women.
8.
Patagonia trucker hats
- Chris at IMT: T
hese are Red Hot!- every age loves them -- men, women and kids.
9.
Headlamp
- For outdoorsy folks, it's about as easy to lose a
headlamp as it is to lose a pair of socks. Especially if you're a family of outdoorsy folks ... everyone borrows your headlamp and it never comes back! You can snag a headlamp for $25-$50, and it has great value for your camping trips, night hiking, river trips, backpacking, even for use around the home! My favorite brands include Petzl and Black Diamond. Get a bright one and you'll appreciate it! My latest Black Diamond model runs on 4 AAA batteries and it's really nice and bright.
10.
Guidebooks!
- Ha! Always a thoughtful item in the stocking or under the tree ... my
guides
are available of course, from
Boise Trail Guide, Owyhee Canyonlands, Paddling the Payette
(just updated for SUPers) and
Boise Road Cycling Guide
, plus my biography on the great champion for birds of prey Morley Nelson,
Cool North Wind
, in memory of all of his achievements related to the creation of the Morley Nelson Snake River Birds of Prey National Conservation Area. Plus I recommend
Matt Leidecker's
guides for the Sawtooths, White Clouds and Middle Fork Salmon River.
Wendy at our cozy cabin in McCall.
11.
Rent a cabin or a yurt
for a gift - Backcountry yurts are hard to get on winter weekends already, but there are still mid-week dates available. You also could rent a cabin in Garden Valley, Cascade, McCall or Sun Valley for a romantic getaway. Check for rentals at
vrbo.com
,
AirBnB
and
InIdaho.com
. Wendy and I rent our Cozy Cabin in McCall for weeks and weekends. Best price in town at $110/night! Sleeps 6. More information on
my web site
and
vrbo.com
. You also could check on a Forest Service cabin rental through
recreation.gov
, or a state parks cabin at the
Idaho Department of Parks and Recreation
.
12. Capilene tops, long underwear - For any outdoorsy person who's active, getting out and exercising several days a week, you can quickly run short of tops and bottoms after they get pitted out and pitched into the laundry. So it's nice to have a deep supply of different tops especially ... lightweight, midweight, expedition weight, etc. These items typically run $25-$75. REI and Patagonia make gear with lasting value. Take a look at smart wool, too.
13.
Buck knife or Swiss Army knife
- These items also have a way of disappearing. But especially guys appreciate having a knife handy for all sorts of things. A single-blade Buck knife is really sleek and cool, and the multi-tasking Swiss Army knives are always a hit.
14.
Hydro Flask
- Previously known as a water bottle, the hydro flasks available today can be used for drinking coffee on the go, taking a long a nice hot cup of tea or hot chocolate on an outdoor outing, or actually packing plain old water.
Hydro Flask
is a brand by itself, but there are many other brands that make quality stainless steel insulated cups and containers. Pricing is in the $10 to $25 range or more.