Here's Steve and Huck starting the descent into Silver City with Sawpit Mountain off to the right.
Hi all,
The recent cooling trend has felt wonderful here in mid-September. Fall is upon us, and that means we can look forward to nature putting on a show with shrubs and trees changing colors, and having cooler temperatures for outdoor outings.
The weather this weekend looks fab as the threat of rain decreases and temperatures are forecast to be mid-60s on Saturday and mid-70s on Sunday. Bluebird conditions!
For this week's outdoor tip, I'm dishing up five of my favorite rock-solid hikes close to home in Boise and SW Idaho.
I'll be giving a presentation on fall and winter hikes at
Boise REI
on Wednesday, Oct. 9, at 7 p.m. All five of the hikes I'm featuring today will covered in my talk. They also are in my books,
Boise Trail Guide: 90 Hiking and Running Routes Close to Home
, and my
Owyhee Canyonlands
guide. Please sign up
online
if you'd like to come! Good time to check on the REI sale rack, too!
Before you go, for fall hiking, let's remember to pack a few more things such as a good rain coat, a few extra upper layers, a good hat, skull cap? water, snacks and camera (your phone) and hiking poles.
Big views off the high ridge on the Sawpit Mountain Loop
The Hikes:
1.
Silver City Sawpit Mountain Loop
-
It's an 8-5-mile loop that circumnavigates a timbered mountain with a bald pointy cap that looms over Silver City in the high-elevation community in the Owyhees. It's rated moderate to strenuous. The fall colors in Silver City should be starting to happen anytime! I wrote about this hike last fall for Idaho Press Outdoors. Please see my story for directions and details.
On a clear day, you can see a long ways across the Snake River Plain from the top of Bruneau Dunes
2.
Bruneau Dunes State Park, south of Mountain Home - Take the kids and go play in the sand. Take your camping stuff if you're so included (check on space with IDPR). Easy to do in a day trip or overnight. Bruneau Dunes has a 470-foot high sandy mountain inside the park. Take a hike on the ridge of the dune. People also try to ski and snowboard the dunes. It's always a cool place to explore.
3.
Charcoal Gulch, Idaho City - Take a drive to Idaho City and go for a nice colorful hike on the Charcoal Gulch Trail, just on the outskirts of town. Find the trail by the Idaho City Airport (ever been there?) on the south side of town. There's a little trailhead on the north side of the airport. Take the Buena Vista Trail along the edge of the mountain, and then you'll see the junction for Charcoal Gulch. There are aspens and pines along the way, plus a small creek.
Charcoal Gulch Trail weaves through ponderosa pine trees and aspens near Idaho City. (Courtesy Visit Idaho)
4. Freddy's Stack Rock Trail -
Stack Rock is a signature granite pyramid-shaped rock on a timbered ridge to the west of Bogus Basin Mountain Resort. It's a 9.5-mile hike or bike ride from the trailhead to do the loop around Freddy's Stack Rock Trail. I would rate the hike/ride as moderate to strenuous because of a number of continuous uphills along the way, the distance and 2,600-vertical-foot gain/loss. You're walking/riding in the pines throughout the route, except when you get to Stack Rock, so that makes it scenic and intimate. Take a lunch to enjoy on Stack Rock.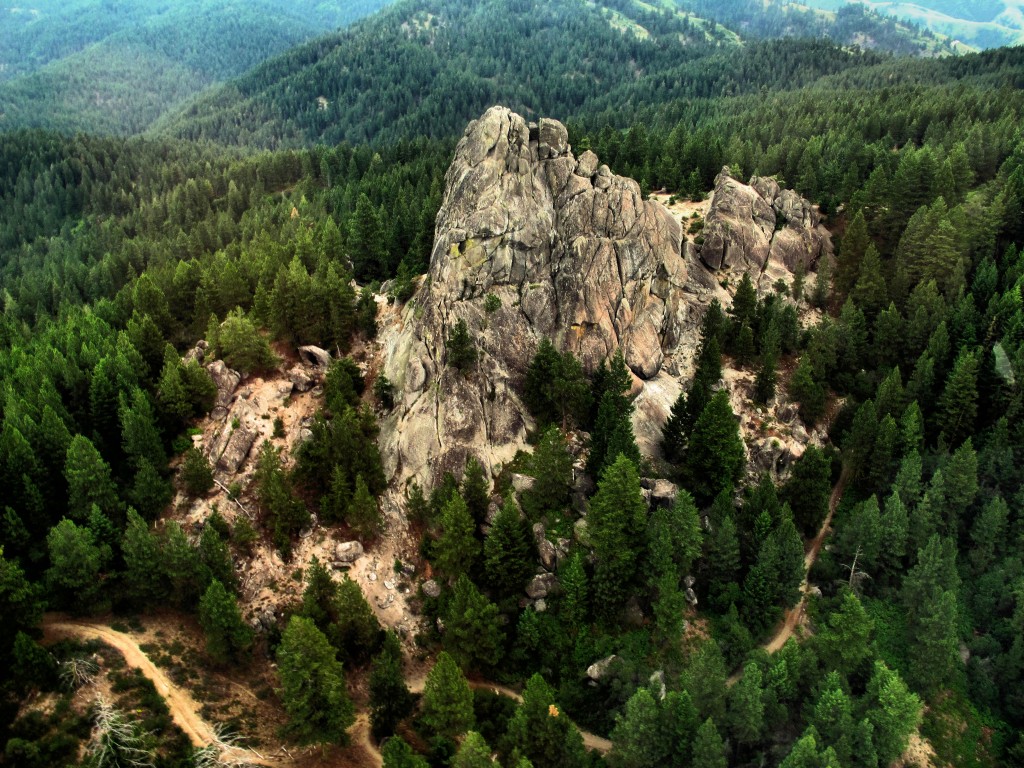 Photo courtesy of Tom Lopez
Backstory
: Approximately 1,300 acres of the Stack Rock area
came into public ownership
courtesy of a $1 million donation by Boise resident Fred Alleman and additional funds from the Boise Foothills Levy Committee. The land was purchased from the Terteling family in December 2009 for $1.32 million to make it available for public use.
Directions: Park in a major pullout on the left as you're heading to Bogus Basin after the road passes the turnoff to a number of cabins on the left. It's a very popular trailhead in the summer. Watch for it at about Mile 12 on the left. A new parking lot has been built up there for the Eastside trailhead on the right side of the road, too. Either works.
You'll see a number of nifty bridges on the Dry Creek Trail ... keeping your feet dry.
5.
Dry Creek out and back, Boise Foothills - Dry Creek is always a pretty hike, but especially right now, it should be great. The trailhead is off of Bogus Basin Road, several miles up from Boise, on the right side, as the road begins a series of hairpin switchbacks. You'll see other cars at the trailhead. It's a big day to hike to the top of the Boise Ridge via Dry Creek (7.5 miles, 2000+ vertical feet), so just take your time and go as far as you want.
The City of Boise is hosting some events to celebrate the 50th anniversary of the Boise River Greenbelt, including the unearthing of a time capsule today and a fun walk/run on Saturday. See the Facebook event page for details.
Have fun!
- SS